Programme Details
What is LaunchMe?
LaunchMe is Scotland's social enterprise accelerator. It prepares ambitious social enterprises and community organisations for growth so they can achieve social impact at scale. The programme selects a cohort of up to eight ambitious organisations each year to prepare them for growth and help them secure investment.
---
---
Is LaunchMe for me?
Social enterprises
Yes, if you are:
An early stage or established social enterprise with ambitions to grow – you want to expand your services, reach new markets, and generate more social impact in the next 9-12 months.
In need of support to develop and formalise systems and processes for your business.
In need of investment and support to reach those ambitions.
Incorporated as an asset-locked enterprise by the time the cohort is selected in March 2022.
New to social investment- this is likely the first time you've considered investment to grow.
Able to demonstrate evidence of sales and social impact. If you are not sure you have enough evidence, contact us to discuss your current situation before applying.
Able to fully participate in the programme, attending regular online or in-person sessions between April and November 2022, applying learning and reporting back on progress.
Community organisations
Yes, if you are:
Developing a community asset or a product with the potential to generate significant income and social impact in the local area.
In need of investment and support to reach those ambitions.
Well-connected within your community and with the buy-in of key stakeholder groups.
Already constituted, with a supportive board of trustees.
Working towards timescales that align with the programme (Apr-Nov 2022). For example, if the growth plans are dependent on the transfer of a community asset, the change of ownership will be already in place when the programme of support starts (April 2022).
Able to fully participate in the programme, attending regular online or in-person sessions between April and November 2022, applying learning and reporting back on progress.
---
How does the programme work?
LaunchMe is an intensive programme that runs over four phases:
FindMe: 12th October 2021- 17th January 2022. This is the recruitment and promotional phase. Attend an Information Webinar or set up a chat with the LaunchMe team if you are interested in applying. We'll be reviewing applications regularly throughout this phase, so if we think your enterprise is not ready, we'll discuss this with you and signpost you to the most suitable support.
ChooseMe: January – March 2022. This is where the support starts. If eligible, we'll 'longlist you' and invite you to attend our LaunchPad event at the end of January. We'll then support you to put together your business plan and financials. The final plans are assessed against the programme priorities, and those with the most potential will be shortlisted to pitch in front of an Expert Panel in March 2022. The panel will select up to eight social enterprises to make the final cohort.
ConnectMe: April – November 2022. An intensive nine months of support and hard work to get investment ready!
LaunchMe: December 2022. You've secured investment and deliver your growth plans with light-touch support from us.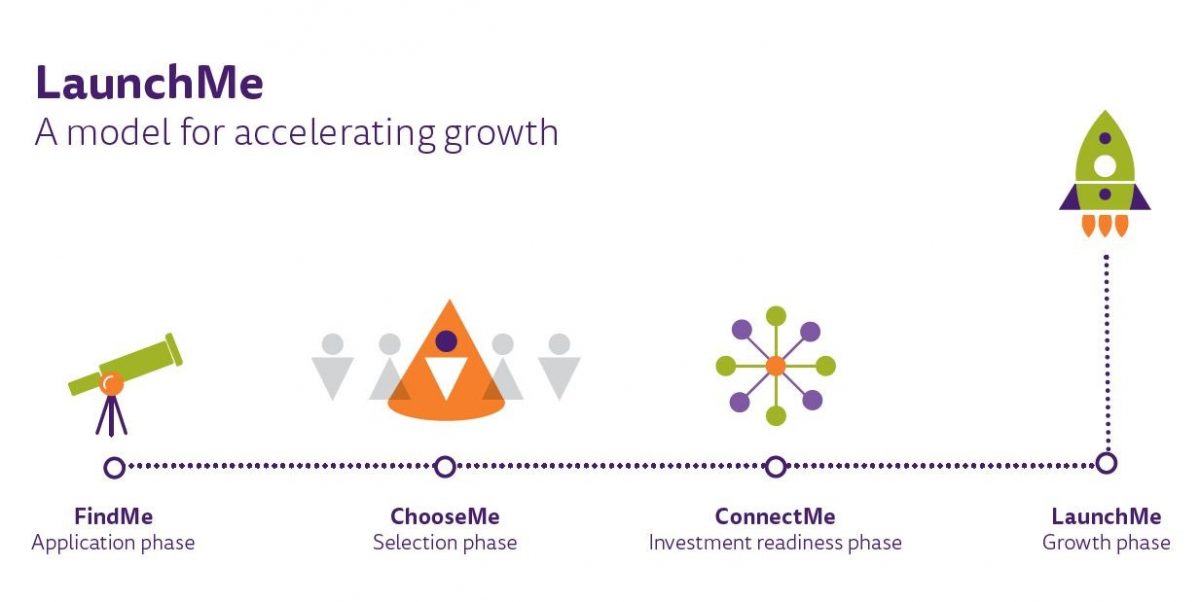 ---
What happens if I make it onto the cohort (ConnectMe phase)?
The cohort will work together from April to November 2022 to get investment ready. This includes:
Regular group sessions (online or in-person) delivered by sector experts covering areas needed to get investment ready (governance, leadership, financial management, digital maturity, sales, social impact measurement, etc).
One-to-one check-ins with your business advisor to track progress, discuss challenges and brainstorm solutions.
Peer support– you'll be working with others on a similar journey, and you will help each other to overcome challenges.
Connections- The LaunchMe team will help you identify potential sources of investment and will support you in connecting with those sources. They will also connect you with our alumni and other experts who can contribute to your scale-up journey.
Seed funding- LaunchMe offers a £10,000 repayable grant to enable your business to kick-start your growth plans. This may entail investing in technology, hiring new staff, or developing whatever your business needs in preparation for scaling up.
LaunchMe is intensive, and as such, you are expected to commit c.10 hours per month to attend group and one-to-one sessions. In between sessions, you will be applying and incorporating new learning into your business and processes.
---
By the end of the programme (LaunchMe phase), your social enterprise will:
Have strong processes and systems in place that will enable growth.
Have a robust growth plan with a defined investment ask.
Have identified potential risks and weaknesses in your business and a plan to mitigate these.
Have the confidence to approach suitable investors to help realise your plans.
Be ready to achieve impact at scale!
---
I'm interested, what now?
Before applying, read all the information on this page and the Guidance Document found at the bottom of this page. You can also check out our case studies to learn about other enterprises that have beneffited from the programme.
Attend one of our Information Webinars, which will give you the chance to find out more details about the programme, ask questions, and hear from previous participants. These will be running when applications are open.
Once you've attended and feel ready to apply, follow the link at the top of the page to access the application form. We encourage you to apply early.
---
General programme eligibility
To be eligible for LaunchMe, your enterprise:
Is based in Scotland and operating primarily for the benefit of people, or communities, in Scotland.
Is not involved in political campaigning or the advancement of religion.
Provides direct social benefit to individuals, communities and/or the environment.
Is incorporated and has an asset lock (This means that profits from the enterprise are reinvested in the business and its social aims and cannot be transferred to private individuals or bodies). If not incorporated yet, you have identified the most suitable structure for the enterprise and expect to be incorporated by February 2022.
Is ambitious, with aspirations for growth and has plans to scale up but has not yet secured appropriate investment to fund the plans.
Does not provide any services/activities that statutory bodies have an obligation to provide.
---
Have a question?
The best place to find answers to your questions are our Information Webinars. You can also give us a call on 0131 564 0331 or email us launchme[@]firstport.org.uk.
Please ensure that you have read through our guidance for applicants. You can view the guidance in a word document below, or you can read our LaunchMe Guidance online through this link.
Downloads