What is the Social Innovation Challenge?
The Social Innovation Challenge is a grant-funding and support programme that seeks innovative solutions to the most pressing challenges of our times.
Every year, the process starts by listening to communities across Scotland to find out what social issues people care most about at that moment in time. We then announce a theme based on this insight, inviting Scotland's most driven individuals to apply for the £50,000 grant award.
We accept applications from anyone with an idea for a social enterprise project that can deliver a tangible, long-lasting, positive impact addressing the theme. In addition to the £50,000 grant, the winner receives wrap-around support for the duration of their award.
---
What is Social Innovation?
Social innovation can take many forms. It can be implementing new or untested ideas, reinventing existing approaches, or introducing known solutions to new geographic areas. The key is to push boundaries, think outside the box, and tackle social or environmental issues in a new and effective way.
Ultimately, social innovation is a force for good: it aims to create positive social change and improve the well-being of individuals, communities, and the environment.
---
What is the theme?
The theme changes every year, and we use insights from surveys and user research to determine the social issue people in Scotland care the most about. Our past themes include:
2022: Climate change challenges faced by rural communities in Scotland.
2023: Addressing the rising cost of living.
We will announce the next theme in spring 2024.
To cast a vote on what the next theme should be or to propose a topic that is important to you, check back on this page in December to fill in a quick survey.
---
What is the funding for?
The Social Innovation Challenge is open to ideas at any stage of development, as long as they are new or different to what's already taking place in their area.
The winner can use the funding to help with start-up fees, research and development, salaries and other essential costs, such as rent or buying critical equipment.
We are looking for applications that can show:
An element of innovation
Direct social impact
Potential to generate income
Potential for long-term financial sustainability
Community involvement in the development of the solution
Environmental sustainability
---
Can I apply?
The Social Innovation Challenge is open to:
Established social enterprises
Unincorporated groups or community associations*
Individuals with an idea for a new project*
* We can only release the grant to incorporated social enterprises in Scotland. If your idea wins, we will support you with the incorporation process before we pay out the award. If you want more information about this, please get in touch with us to discuss it further.
---
Spotlight: Previous Winners
The 2022 theme was: innovative solutions to climate change issues faced by rural communities in Scotland.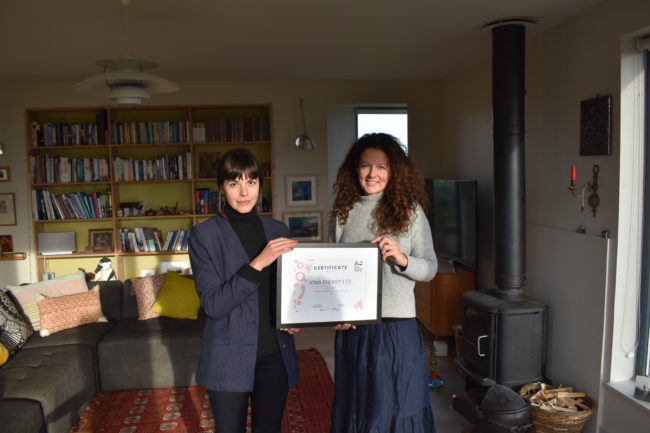 The winner of the 2022 edition was Iona Energy Ltd (IEL). This is how they met the key 2022 criteria:
Relevance to theme: The project aims to install a ground source heat network which will operate as a communal, low-emission, low-cost heating system for the island and will allow residents to move away from a reliance on fossil fuels.
Direct social impact: By moving away from their reliance on fossil fuels, island residents will be more resilient in the face of rising energy prices. The solution also aims to ensure that network maintenance can be done on-island, thus helping this remote community become more self-sustaining.
Element of innovation: While ground source heat pumps are not innovative in their own, the de-centralised network design that IEL is hoping to implement constitutes a new approach, which could potentially offer a replicable model for other remote, vulnerable areas facing similar challenges.
Potential for income generation: Once up and running, the project will generate income by providing heating to those linked to the network.
Community-driven solution: The community of Iona have collectively led the development of this transformative ground source heat network, which will be owned, operated, and maintained by island residents. 
The 2023 theme was: innovative solutions addressing the rising cost of living in Scotland.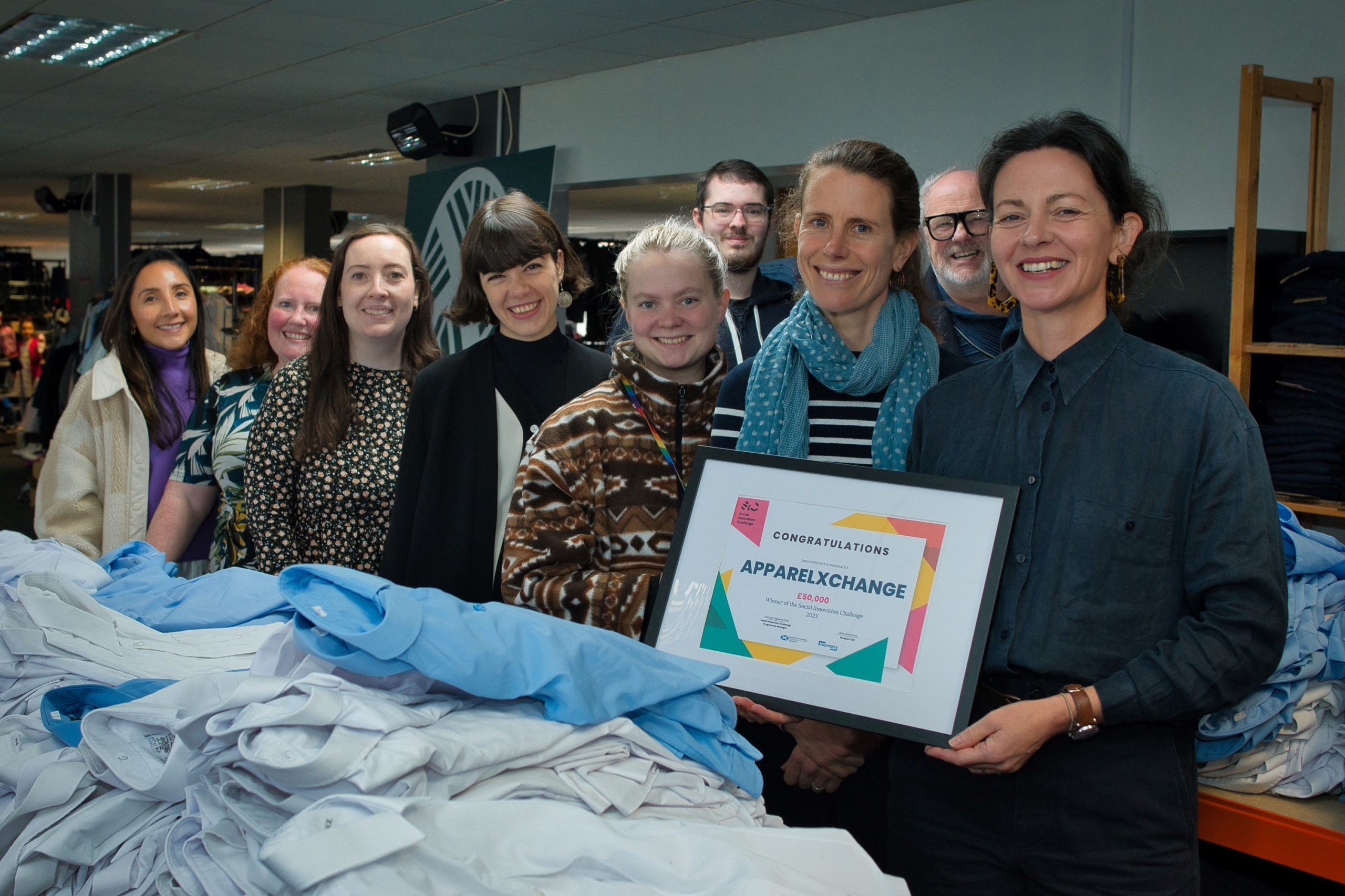 The winner of the 2023 edition was ApparelXchange. This is how they met the key 2023 criteria:
Relevance to theme: ApparelXchange C.I.C is a social enterprise dedicated to reusing, repairing and recycling school-aged children's fashion and footwear. Their clothing system is helping families reduce pressure on their budgets, lowering the risk of falling into debt and allowing them to spend money on other essentials.
Direct social impact: In addition to helping families, children also benefit from ApparelXchange's shared wardrobe by having access to a range of clothing appropriate to their needs, supporting their learning in school, participation in sports, and confidence in engaging within their community.
Element of innovation: ApparelXchange is creating a first-of-its-kind clothing system for the city of Glasgow, with a shared wardrobe that aims to reduce the financial burden on families of clothing purchases and the carbon impact of clothing on the environment.
Potential for income generation: Income will be generated through the sale of clothing, third-party funding sources, including agreements to provide clothing to families.
Community-driven solution: ApparelXchange are working in partnership with local authorities, charities and other local social enterprises, to ensure that families can easily access high-quality preloved children's clothing at affordable prices – or for free if they self-refer or are referred to via partner organisations.