Founder of The Leith Collective is One Step Greener ambassador for COP26
Social entrepreneur and founder of the Leith Collective, Sara Thomson, has been chosen as one of 26 extraordinary everyday people who are going above and beyond for the climate.
Sara Thomson, founder of the Leith Collective, describes her social enterprise as a supported retail environment designed to enable artists, whatever their situation, to sell their work. The Leith Collective promotes sustainability by selling pieces that are made using recycled materials and is the first of its kind to be single use plastic-free.
In the lead up to COP26, she was invited by the Cabinet Office to become a One Step Greener ambassador. The 26 ambassadors symbolise the very best in UK Climate Leadership and aim to inspire the public to follow in their footsteps.
We caught up with Sara to hear about how the Leith Collective has grown in the past few years, and to learn how she became a One Step Greener ambassador!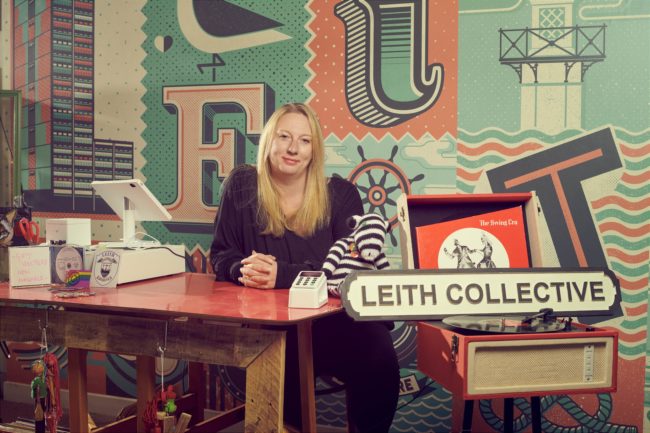 How did the Leith Collective begin?
The social enterprise grew from small beginnings, as a free gallery run by Sara in Ocean Terminal, Leith. After completing her photography qualifications, Sara didn't know how to build a career in the creative industry. She did not have much knowledge of business and realised that other creatives must have the same problem. Once the gallery was up and running, Sara was contacted by many artists who wanted to sell their work through her. This showed Sara that there was a need for support for artists, which inspired her to develop the gallery into a social enterprise.
In just 3 years Sara has scaled her enterprise enormously, supporting over 200 artists across three stores, located in Edinburgh, Glasgow and London. During this growth, sustainability and waste reduction has remained central to every aspect of the Leith Collective. Sara's action to protect the planet is paving the way for a new type of retail. It therefore comes as no surprise that she was invited to become a One Step Greener ambassador, even if Sara herself was a little shocked!
How did it feel to be asked to be an ambassador?
It was actually just a complete shock! I couldn't believe it. When they explained what the ambassador role is I thought it was so exciting.

When I looked at the people that were chosen, I realised that I was the only Scottish person, so I thought I have to do this for everybody.
What does being a One Step Greener ambassador for COP26 mean to you?
It's a chance to tell your story to people that are influential in the world. I'll hopefully be going to the conference and meeting some of the world leaders. I'll be able to tell them how Scotland is leading the way in terms of a different type of retail, which is really exciting!
What have you been able to do so far, in your role as ambassador?
So far it's been a whirlwind. I went to a meeting at the Scottish Parliament and met people that are trying to make things more sustainable in Scotland. I've met people from huge companies who are trying to change their companies to be more sustainable, and I've done talks at these companies.

I have been able to implement change in retail companies to reduce the amount of waste. For example, at the St Enoch Centre in Glasgow if somebody in a shop is throwing out a display because it's not that season or it's just a bit wonky, they can contact us and ask if somebody wants it first before it goes to the bins. Glasgow Airport now gets in touch with us if they're throwing anything out because we can upcycle, reuse or repurpose it, and sell it in our shop. It's not just helping with sustainability in terms of items, but financially it's benefiting the maker hugely. So, that's been a massive achievement and that wouldn't have happened if I hadn't become an ambassador.
What do you see social entrepreneurs' role in the fight against climate change being?
I think as social entrepreneurs we all have something in common; we're all trying to educate in some way. So, I think the biggest thing that you can do is actually just involve sustainability in the educational message that you have already.
How can we tackle some of the challenges social entrepreneurs face when starting up in a sustainable way?
Sara sees an opportunity for collaboration and sharing that could benefit start up enterprises:
I work in retail and there will be other people that will start up social enterprises in retail. I might have card readers that I bought at the very beginning, but I have had to change my system. So, if we could set it up, I could offer (to a business starting up) things I already have but no longer use. It could work like a Swap Shop. Their business couls help my business later on. It's creating a circular economy where you're helping each other.

I think that knowledge is power around this. I think it would help if there were courses around sustainability because it's not just about plastic and about waste. It's about shopping locally and about changing perceptions. If there was a course when you are starting up your business, then it's already in your mindset so you can put these things in place.
What are your top tips for social entrepreneurs looking to be greener?
In retail, let's think about packaging. We don't need to be using plastic bags anymore, we can use paper. Use bubble wrap if it's essential. If you think about going to the butcher, for instance, you're going to get your things wrapped in paper. If you go to a supermarket, it's wrapped in plastic. Often by shopping local you are actually being more sustainable without even realising it.
Your social enterprise has a positive impact on the environment. How are you helping people too?
I have realised that art works as a form of therapy for people. The more I started working in the creative sector, I realised that mental health is so important. Loneliness is a huge part of it. When you are creative, you work from your shed, or your living room, or your kitchen, so you don't see many people. That's why when the makers come to us, they have the choice to take time to work in the shop. They get to meet their own customers and see what sells and doesn't, and it's not coming from me, they can see it themselves. So, they get ideas as to what to make and how to change what they're doing.
Sara not only provides a space for artists to sell their work but supports them through the practical steps of how to do this. For example, often makers don't know how to price their work. Sara and her team will help them price it, teach them how to put barcodes on, how to manage stock, organise waitlists, and grow their confidence so that they can operate as a small business and provide a full-time wage for themselves.
This year the Leith Collective has started offering supported employment placements for people with learning difficulties, disabilities, and mental health problems. Individuals on the placement will work in the shop to learn valuable new skills, grow their confidence, and gain a qualification. Plus, the Leith Collective endeavors to support individuals to gain employment, either with themselves or another company, at the end of their placement. This is funded by the profits made by the social enterprise.
Do you have plans to grow the Leith Collective even further?
We have built a website that will be launching at the end of this year. Every single maker will get their own profile page on it, and we're opening it up to other social enterprises or community interest companies to have their own profile too. As long as you sign up to not using single use plastic in any of your packaging, you can be on the website and have an online platform to sell products. It will be the first sustainable website of its kind!
Is there anything you have learnt through your experience that you think is important to share with other entrepreneurs?
Don't give up. Sometimes you do feel like nobody gets it, but they will. If you keep shouting loud enough, they will.

And the second lesson is that you can't do it all yourself. You have to learn to let go of the parts you can't do. I'm a creative person and I know that, and I lead a whole load of creative people, so my mindset isn't always business and financially oriented. I've learned to stop worrying about it and rely on people that can do it. Work to your best skill set, don't try and be everything. You have to learn to trust other people and teach them what you know. Don't hold it all in.
---
Keep up to date with their latest news on the Leith Collective website. Or check them out on Instagram.
And get inspired by checking out the other One Step Greener Ambassadors!