Seabuckthorn Scotland CIC
Seabuckthorn Scotland CIC is a social enterprise that harvests the Seabuckthorn plant in the East Lothian area and produces nutritional drinks. Alongside the production they also offer employability training and mental health services.
Seabuckthorn Scotland CIC is a social enterprise that harvests the Seabuckthorn plant in the East Lothian area and produces nutritional drinks. Alongside the production they also offer employability training and mental health services.
Kirstie's social enterprise harvests the Seabuckthorn plant in East Lothian and produces nutritional drinks, that have significant health benefits. The social enterprise also uses the harvesting, and production of the juice as a means of helping those struggling with their mental health. 
Kirstie's inspiration for Seabuckthorn came from a combination of her professional and personal background. Finding herself working in the field of humanitarian aid, Kirstie worked in various war zones around the world with agencies including the UN World Food Programme, ICRC and the International Medical Corps. Her key role was assessing the food security for the most vulnerable populations and finding solutions to meet their most urgent needs. This is where Kirstie first learnt about local survival foods, the most impressive of which was seabuckthorn.
This miracle plant was introduced to me in 2010 during the Pakistan floods as one of the only available food sources for people living high in the mountains during the winter months, when the roads are closed and other foods are unavailable

Kirstie Campbell – Seabuckthorn Scotland CIC
It was then that Kirstie began her research into the plant.
The more I read the more I was convinced that I had to do something with it, both to reduce the food waste and to help people through education about the plant, as well as making it available to people in its most natural and appetising form. Seabuckthorn is an absolute powerhouse nutritionally, which is now being increasingly recognised by scientists: it is absolutely chock full of Vitamins A, C and E, not to mention Omega 3, 6, 9 and the rare 7, all of which are hugely beneficial to both physical and mental health. When we consider the growing health problems and nutritional deficiencies which are increasingly recognised in our own population, it is wonderful that nature can provide such a wealth of benefits, right here on our doorstep and that we can provide it fresh, raw, delicious and with a minimal carbon footprint

Kirstie Campbell – Seabuckthorn Scotland CIC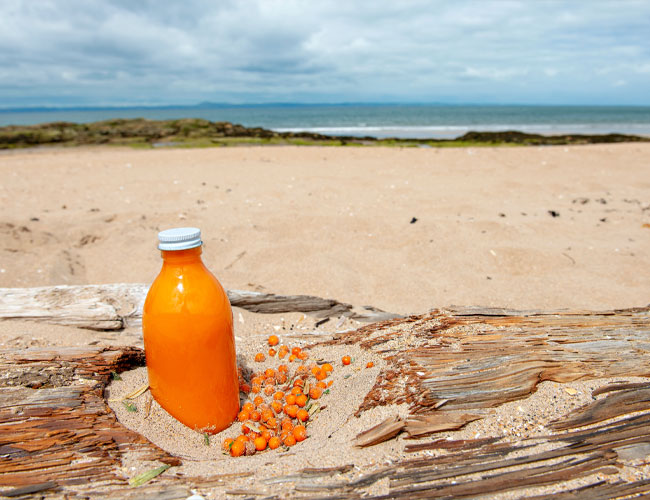 When starting out, Kirstie received a lot of support from East Lothian council, who granted her a permit to forage the berries, and since then she hasn't looked back. 
I met Firstport in around August 2018 after a referral from Business Gateway and I have been so incredibly grateful for all their tremendous insight, support, wisdom and encouragement which has kept me going despite the many hurdles involved with setting up a new business from scratch. It has been a steep learning curve and their ongoing support is invaluable.
Any top tips to share with other social entrepreneurs?
I think the most important thing is to think your idea through as much as you can and do thorough research – before coming to see the team. This will demonstrate to the FP team that you have the commitment, interest and deep knowledge of your subject area. It's also good to bounce your plan off a couple of trusted friends who you consider may be potential Directors before seeing First Port to gain some experience of explaining and justifying your concept. Thirdly your co-Directors are everything. I wouldn't be this far without mine; choose them carefully!
What have you found challenging setting up your social enterprise?
On the administrative front, my experience with Companies House was somewhat prolonged due to their unclear instructions and regulation differences between Scotland and the rest of the UK. If you can afford a lawyer to help with this, then do consider it if time is of the essence for you.

Secondly, the lack of one building for a kitchen, storage, etc and learning all the new rules etc of business and the all-important hygiene standards for my field, not to mention building my own confidence, were all challenges.

Thirdly, despite being well-know and well-recognised in some parts of the world, Seabuckthorn processing is pretty new in the UK and so I have had to work out all of the processes from scratch. I have really appreciated help from Seth Pascoe (Cornish Seaberry Company) and David Eagle (UK Seabuckthorn Association).

Lastly, Seabuckthorn is a very spiky plant with needles not to be trifled with and I always forget that one pair of gloves – however thick- will not avoid a meaningful selection of spikes and splinters every day during harvest.
Future hopes for Seabuckthorn Scotland CIC
We have had a hugely positive reaction to our wild handcrafted juices during our first year as a business which has given me the confidence to do everything I can to drive the growth of the business and to increase the work that we can do as a Community Interest Company.

We plan to continue to work with hand chosen local partners to continue to grow the knowledge base about this wonderful, natural, healthy product.

Finally, as Seabuckthorn has been here in Scotland since Pre Glacial times, perhaps this vibrant berry is indeed Scotlands best kept secret! We hope that with the right support we can make this super berry available enough to be celebrated openly (and even shared with visitors here) … for the first time -in our written history.